10 Simple List Making Apps 

If you need to make your day more productive, there are literally dozens of reasons why you should incorporate list making into your daily routine. Creating a clear list helps you to cut through the white noise of the world around you and get your affairs in order. Today more and more of us are relying on list apps to keep track of what needs to be done.
Whether we're tracking grocery lists on our smartphones or detailed work deadlines on our desktops, list-making apps have become instrumental in our modern productivity. Below we take a look at 10 simple list making apps that can help to make sure you're doing what needs to be done to reach your goals for the day.
1.           Evernote 
Evernote is one of the most famous list making apps on the market today, and it's easy to see why. This crisp and simple cloud-based note service allows users to upload to-do lists from mobile and desktop devices. More adventurous users can also add new items by voice via an onboard widget. Other features like search, pinning notes and setting timed alerts help to turn this into a very useful and pragmatic app.
 2.           Trello 
When it comes to list making, innovators Trello have designed their app to act as a whiteboard that's tailor-made for professionals. From the outset you're provided with a clear board where you can customize and add videos/ images. These can be shared and managed by other users, which makes it particularly useful for those working on projects at work.
3.           Clear 
As one of the standout list making apps for Mac, with over 2 million downloads Clear takes users back to basics with a gesture driven design that allows you to swipe and arrange lists as you see fit. With one theme, you can color code your tasks in red, orange and yellow to identify what tasks are most important. If that wasn't enough, Clear can also be synced through iCloud.
4.           Zippy 
 If you like segregating your tasks according to their topic, Zippy is a great option open to you. The simple user interface allows you to add tasks to your to-do list before tagging them with a keyword, selecting a reminder data and a deadline. As a bonus you'll also be able to access stats which display how long it takes you to complete tasks and how much you tend to procrastinate!
5.           Tick Tick 
 If you're looking for a mix of short and long term tasks Tick Tick is the app for you. Users can decide whether to manage their items in daily lists or lists for the week ahead. High priority tasks can also be dragged and dropped in order to set them apart from less important errands. There's also the potential to share your to-do lists with other users as well.
6.     Gneo
Ever since Gneo rose to prominence around four years ago, it's become a very sleek option for those looking to prioritize tasks. Whilst many apps offer this service, none do so as stylishly as Gneo. Users can literally toggle a switch in order to change how important a task is. This makes it the ideal choice for users who don't want to mess around with any advanced features.
7. Awesome Note 
If you want a birds-eye view of the week ahead look no further than Awesome Note. This useful app provides users with a high quality graphical calendar that tracks deadlines and can be updated with notes as needed. In addition, the onboard reminder functions can sync with other third party applications like Google Docs, making it a very versatile choice for professionals (Although it's not a cloud based app).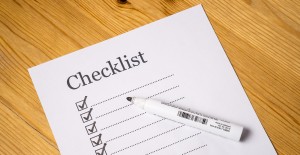 8. Todoist
 Those looking for a more serious and upright experience will be delighted with Todoist. The app is based around the design of an email inbox, letting you know what tasks you need to do today and throughout the rest of the week. You'll have access to a basic filing system that supports up to 150 active tasks and 80 active projects. If you want to unlock extra features like email and text message notifications, you'll need to buy the professional version.
9. Wunderlist
For users who consider cross platform compatibility important, Wunderlist is hard to beat. This list-making app works with iOS, Android and Windows, and is also accessible from your desktop browser. Unfortunately you're limited to 25 assignments and 5MB attachments when you begin, unless you pay $50 per year for the pro version.
10. Any.Do
 As one of the most basic apps on this list, Any.Do has more than enough to help you to manage your day-to-day lists effectively. iOS users can also use geolocation features tied to their to-do list into a map location. There's no calendar view but what the app lacks on this front is made up for with its compatibility with Google Chrome, iOS and Android.